Traditional Japanese architecture is characterized by roofs with various designs of gables.
This article covers the unique Japanese gable called Kara-hafu.
Roofs and gables in Japanese architecture
Japan's average annual precipitation is almost twice that of the world, making it one of the world's rainy countries.
Traditional Japanese architecture features a large roof with deep eaves.
Hafu originally refers to gables or bargeboards. There are some types of hafu: simple triangular-shaped Kiritsuma-hafu and Irimoya-hafu, decorative Chidori-hafu placed on a roof, bow-shaped gorgeous Kara-hafu.
Let's focus on the last one, Kara-hafu, unique to Japan.
Origin of Kara-hafu
Kara-hafu is sometimes thought to be of Chinese origin. Because the term Kara usually means China. However, Kara-hafu originated in Japan, dating back to the Heian period (794 - 1192).
The Japanese valued advanced things Chinese and called those Kara-mono. They often prefixed Kara to the name of the things novel.
Sometimes, I find such words, "Chinese Gate" or "Chinese-style Gate," as the translation of Kara-mon featuring Kara-hafu in an English explanation of temple and castle buildings. Those are not appropriate as an explanation for Kara-mon.
Spread of Kara-hafu
Kara-hafu has been used in temples, castles, aristocrats' and samurai residences since the Kamakura period (1192 - 1333) due to its high decorativeness and quality. It can be seen in many existing traditional buildings today.
In the words of an architectural historian, Terunobu Fujimori, the times when the Kara-hafu was particularly popular are as follows.
"As you can easily predict, there is only one era in which people liked flashy and gorgeous styles rare in Japan. It was the Azuchi-Momoyama period (1573 - 1603) when samurai powers Oda Nobunaga and Toyotomi Hideyoshi did whatever they wanted in fancy Azuchi and Jurakudai Castles, respectively."
In the Edo period (1603 - 1867) following the Azuchi-Momoyama period, Kara-hafu was often used in monumental buildings such as Nikko Toshogu and prestigious temples and shrines.
You can see an example of the rare use of Kara-hafu at Shurijo Castle in Okinawa.
At first glance, Shurijo Castle resembles the Forbidden City in China. However, the main building has a great Kara-hafu in front, featuring a Japanese-style design. From that, Kara-hafu can be seen as a significant design element of Japanese architecture.
Unfortunately, the main building of Shrijo Castle burned down in 2019, which was a reproduction based on the design of the old building completed in 1715 and lost in WWII.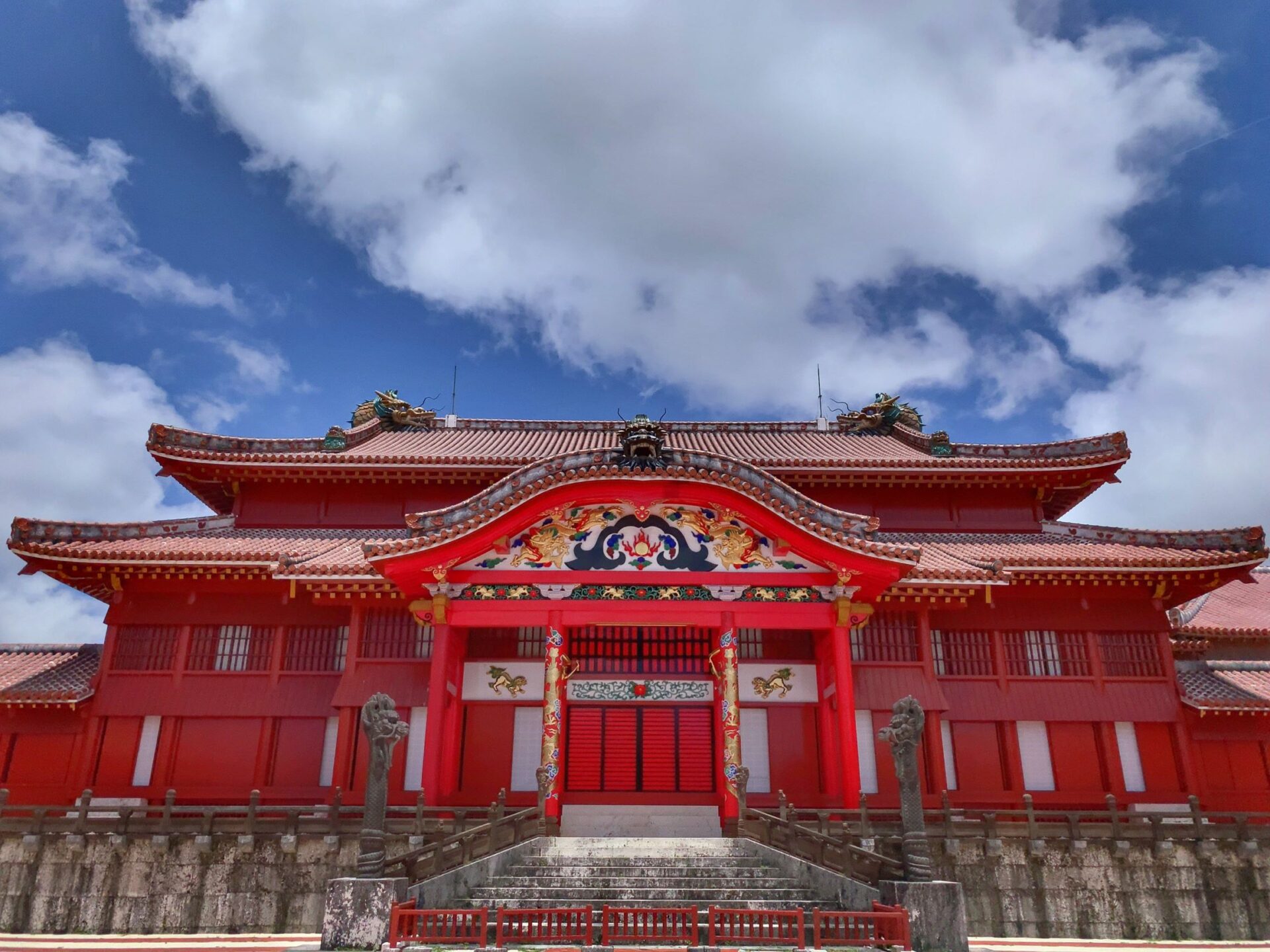 Kara-hafu in modern times
Kara-hafu has been used in pre-modern times and today as a significant motif of Japanese roofs. For example, Kara-hafu was adopted in the second Kabukza Theater building completed in the modern Meiji period (1867 - 1911) and has been handed down today.
Kengo Kuma, a world-renowned architect, respected the old designs of the Kabukiza Theater buildings. He used Kara-hafu in the design of the 5th Kabukiza Theater in 2013.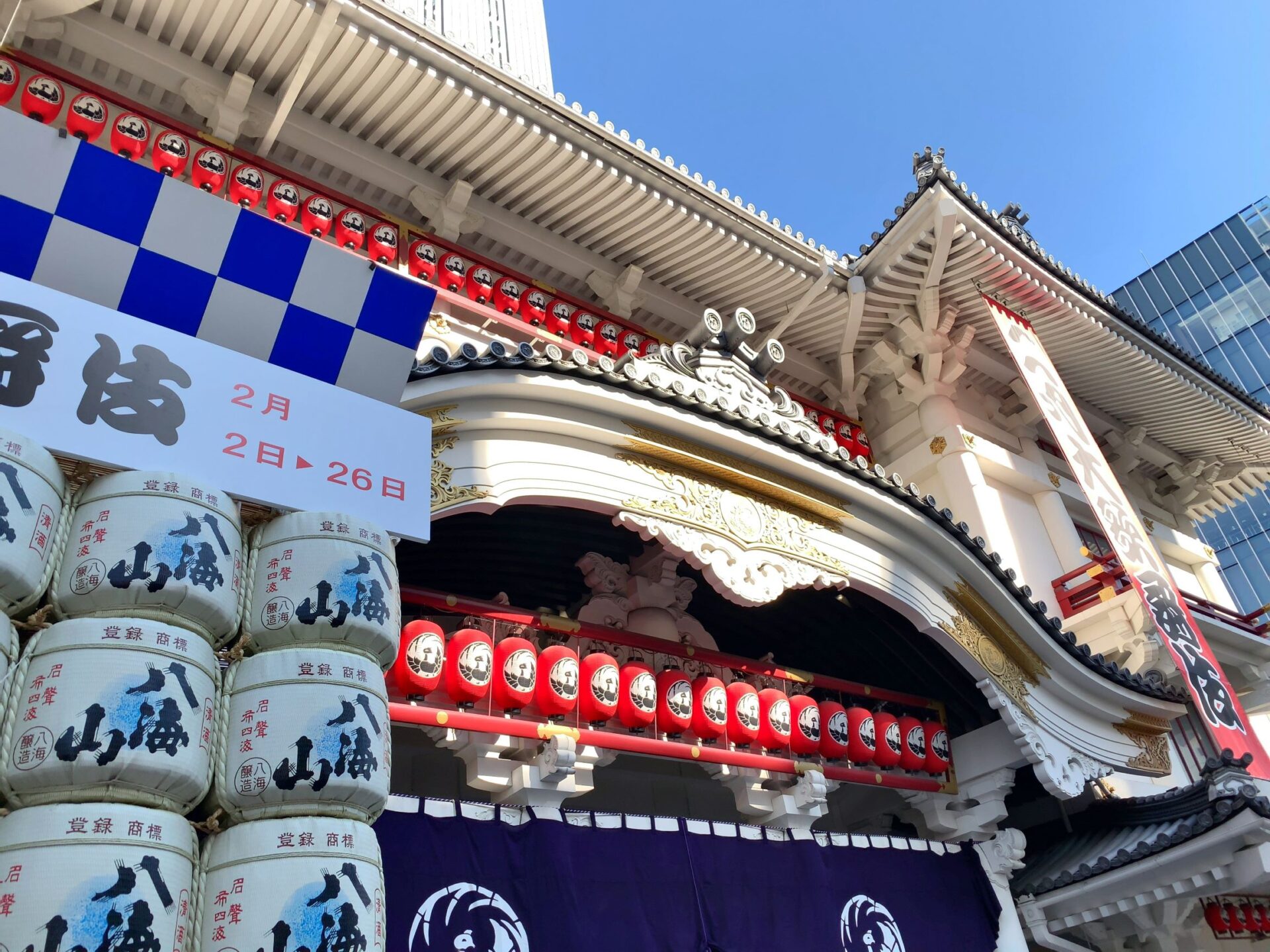 Other examples are found in the facades in public sento bathhouses rebuilt after the Great Kanto Earthquake (1923) in Tokyo. Those bathhouses with striking appearance are called the Miya-gata or Miya-zukuri sento, meaning court or temple styles bathhouses.

In the Edo-Tokyo Open Air Architectural Museum, Koganei City, Tokyo, there is an old public bathhouse named Kodakara-yu. The bathhouse is said to be one of the models of the Abura-ya bathhouse in Studio Ghibli's animated film, Spirited Away.

Tokyo's Miya-gata sento are on the verge of extinction, but you may find some that remain in the city.